Our pitches are particularly spacious and all have access to water and electricity (6 A ground connection). Drinking water points are spread throughout the site. They are naturally separated from each other and all offer a share of sun and shade. Sunshine and shade vary depending on the pitch, but most pitches are semi-shaded or offer sunshine filtered by vegetation.
During July and August, our campsite is closed to car traffic. We therefore only accept a limited number of motorhomes. You can park your car in the car park at the entrance to the campsite. We also offer beach trolleys to transport your shopping.
Pitches
to suit all tastes!!
If you let us know the size of your tent or caravan when you book, we'll do our best to find you a suitable pitch.
You can choose a spot on a leafy lane like pitches 37 to 43, or a cosy spot like pitches 1 to 5. If you want to be able to see your children, we have open sunny spots overlooking the pool and play area. If you're looking for peace and quiet, you'll find a spot deeper in the forest. See the map
You can also reserve the pitch of your choice for a supplement of €20. You will then be guaranteed the pitch of your choice. Otherwise, we reserve the right to change pitches according to the schedule.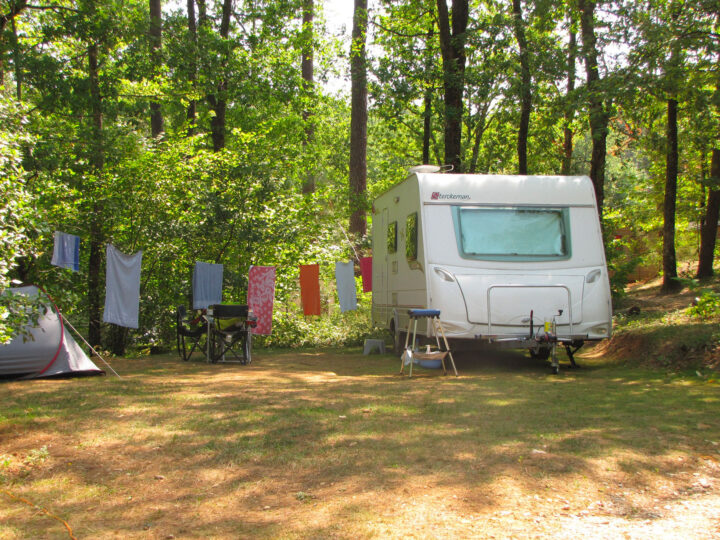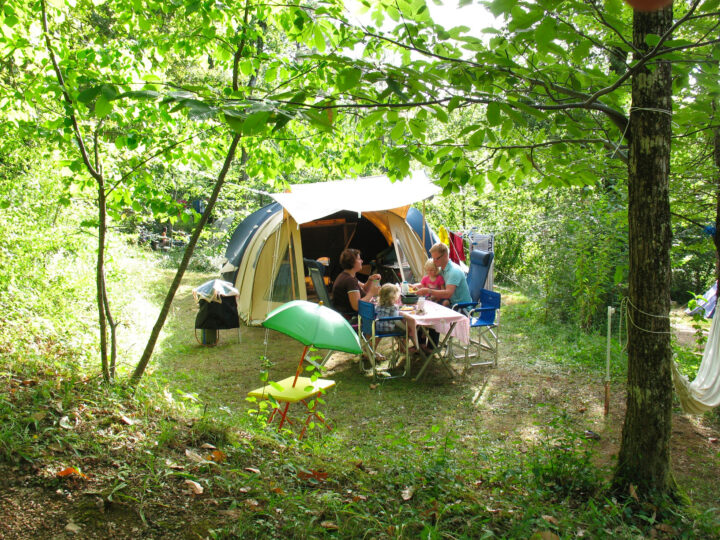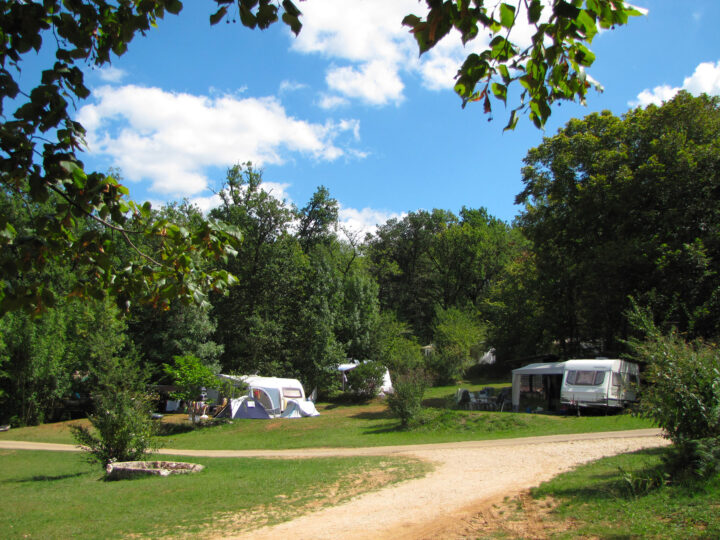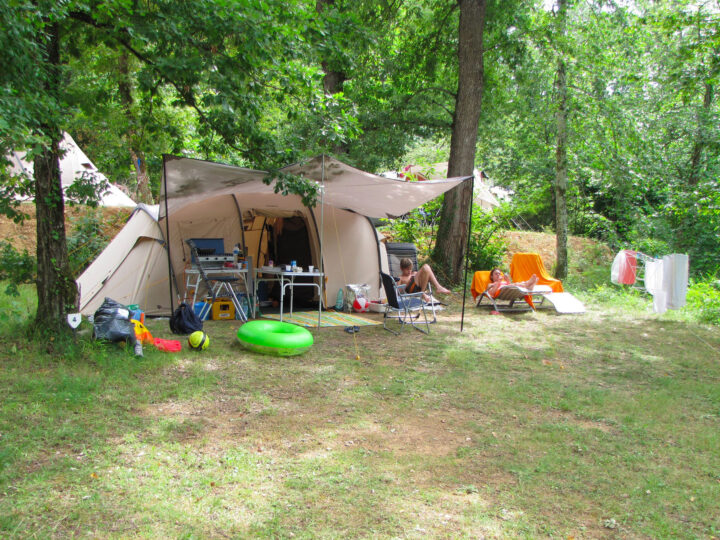 Assistance
for your manoeuvres
As the map does not show the gradient, it is difficult to get an idea of how steep the terrain is.
The climb is approximately 70 metres. Immediately after the entrance/reception area, the path descends quite steeply and rises again at the end.
Some pitches are difficult for caravans to access. If you have a caravan manoeuvring system ("Mover"), you shouldn't have any problems. If you are unsure about going down a slope, please ask at reception for assistance.
Given the configuration of the site, we consider it unsuitable for people with reduced mobility.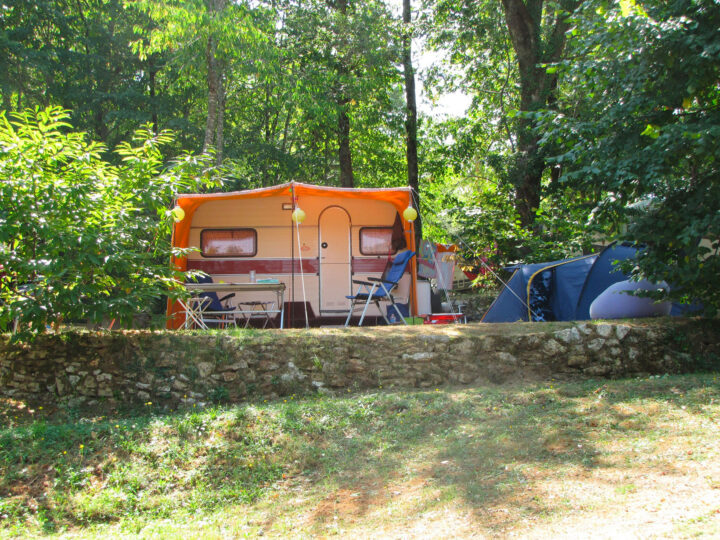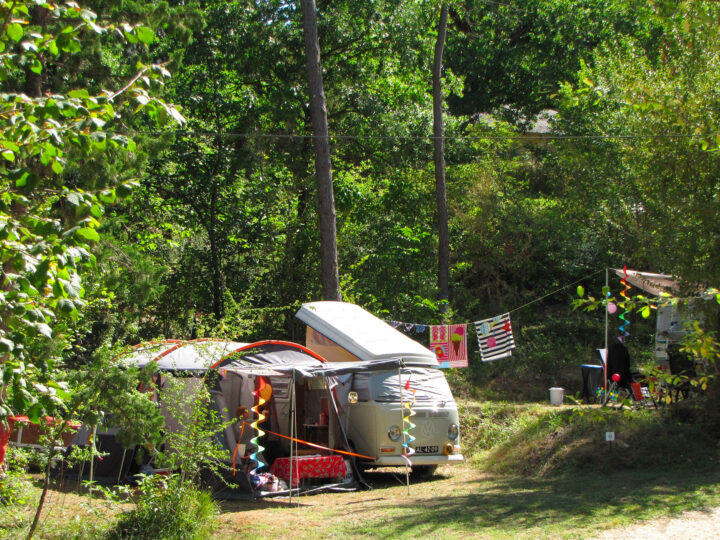 Sanitary facilities
of the camping
There are two sanitary blocks on the site, each with hot showers, toilets and a washing-up area.
One hut has a washing-up area only.
One building has a drainage point for chemical toilets. A baby area, washing machine and tumble dryer are also available to our guests.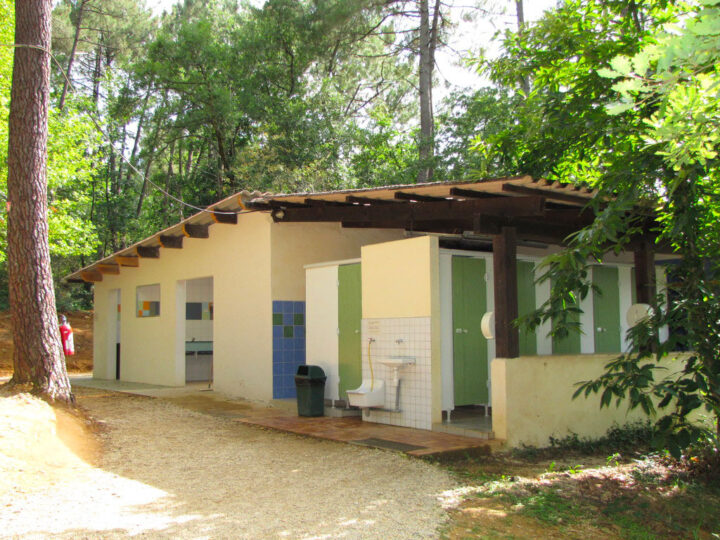 Online booking
Rates & Availability
Practical info
Each camping pitch is limited to one family of a maximum of 2 adults + children.
Each additional person is charged €50 per week.
Baby kit hire: 5 € / day – free in low season
– Children's chair: 1.50 € / day
– Cot: €2.50 / day
– Baby bath: 1.00 € / day
Table fridge (subject to availability) : 6 € / day + Deposit 50 €.
Additional car : 10 € / day.
Visitor (no access to swimming pool) : 4 € / person / day.
Connection to type 2 recharging point: 5 € / day (with a minimum of 35 €).
Pets are allowed (1 per pitch) with a valid veterinary passport and/or vaccination certificate, and must always be kept on a lead.
Category 1 and 2 animals (attack or defence dogs), whether or not they are registered in a herd book, are expressly not admitted.
Rates include hot water, use of swimming pools, tennis court, mini golf and other facilities.
Arrival: from 12 noon – Departure until 12 noon.
Tourist tax : 0.60 € / pers. +18 years / day.
Environmental contribution : 0,60 € / pers. +18 years / day.
Booking fees :
– from 13/07 to 17/08 : paying : 20 €.
– from 04/05 to 13/07 + from 17/08 to 02/11: free.
Booking :
Deposit: 30% of stay plus booking fee. Payment must be made no later than 10 days after the date of acknowledgement of receipt.
Preferred pitch: €20/stay.
No reimbursement will be made for any stay cut short by late arrival or early departure (including days of absence).
Cancellation insurance: 6% of the total cost of the stay.